Hunting The Past
Arienna Austin is a girl on a mission. Her family was murdered by vampires five years ago and she has trained long and hard to become a hunter. She finally encounters the nest of bloodsuckers who ruined her life and she intends to exact her revenge on them all.
In a horrible twist of fate, she becomes one of the very creatures she's been stalking and her entire world is turned upside down. If the hunters who took her in and trained her learn what she has turned into, she will become their next target.
A chance encounter with a sexy Scottish hunter changes everything. Connor McAllister is more than he seems. He is a shapeshifter who works for a secret organisation known as the Hunter Elite. Ari is exactly the sort of creature the team needs on their side. That is if the supernatural monster killers allow her to live. She must prove she isn't a danger to humans, or she suspects that she won't leave their compound alive.
​
​ Store Links:
Amazon
-
Barnes & Noble
-
iTunes
-
Kobo
-
GooglePlay
---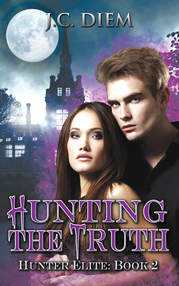 Hunting The Truth
Ari has a choice to make that could change everything between herself and her ghostly best friend. She must decide whether to tell Jonah about his past, or to let him remain clueless about how he'd come to be haunting the Hunter Elite's mansion. She can't predict if the knowledge will set him free, or if it will have dire consequences.
When the team visits Spencer Von Hades' mansion, Ari senses something is very wrong from the moment she steps inside the mysterious house. While none of her friends see anything strange, she knows it is dangerous and potentially deadly. A creepy butler lurks within the halls and he is just as strange as the house itself.
When vampires attack several families in one town, Ari and Connor are sent to assist Jake Everett and his hunters to track them down. Bloodsuckers are increasing in numbers and seem to be coordinating with each other. It is unheard of for the undead to congregate and they suspect something terrible is brewing in the supernatural underworld. They need to find out more so they can stop their diabolical plans.
​ Store Links:
Amazon
-
Barnes & Noble
-
iTunes
-
Kobo
-
GooglePlay
---