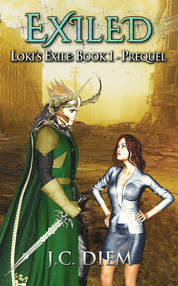 Exiled
Note: 'Exiled' consists of extracts from the Alpha World of the Fate's Warriors series. It is a prequel for the Loki's Exile series.
Loki Laufeyson has made many mistakes during his lengthy existence, but none greater than attempting to overthrow Odin, King of Asgard. Exiled for his treachery, he seeks vengeance by becoming allied with creatures who are just as ambitious and merciless as he is.
Bianca Caldwell is on the cusp of living her dream when Earth is invaded. She always believed monsters, aliens and ancient demi-gods were just stories, but she discovers they are very real. She encounters Loki by sheer accident when fleeing for her life, or so it seems. Little does she know that a powerful force is steering her towards her destiny.
Blackmailed by Fate and given the task of watching over a human, Loki is ill equipped to deal with the fragile, yet beautiful young woman. His desire is to rule over humanity, not to babysit one. He must keep Bianca safe from his Viltaran and Grimgorg allies, not to mention their minions, or they will both pay the ultimate price.
Store Links:
Amazon
-
Barnes & Noble
-
iTunes
-
Kobo
-
GooglePlay
---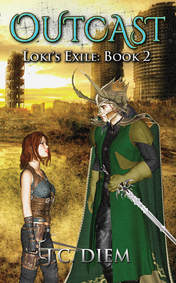 Outcast
​Banished from Asgard, Loki is forced to flee from hideous green aliens who intend to kill him. He falls through a strange portal and ends up on a dystopian version of Earth. Deeply out of his depth in this harsh, post-apocalyptic world, his only hope of finding his way home lies with an outcast.
Bianca Caldwell's short life has been an endless struggle for survival. When a god practically falls into her arms, she embarks on a journey that will take her far away from the cave in Texas that she calls her home. For reasons she doesn't understand, she feels compelled to help him even though danger follows in his wake.
They are strongly drawn to each other during their perilous journey. Both feel as if they have a connection, almost as if they've met before. But that is impossible, since they come from different realities as well as dissimilar worlds. Forging an uneasy alliance, they must learn to trust each other in order to survive against the droids, clones and hostile humans who hunt them.
Store Links:
Amazon
-
Barnes & Noble
-
iTunes
-
Kobo
-
GooglePlay
---